Támas Almási: Puskás Hungary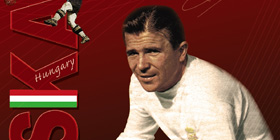 He was Ulysses and Zorbas, a traveller of the world and a man who enjoyed Life. This is the way, a Greek summarizes the legendary Ferenc Puskas in this entertaining and informative documentary about him. And the Greek loved him because of his years as coach in the club Panathanaikos, as they did love him in Madrid where he played for Real and as they always did love in his native country, at least those connected to football.
For newcomers in football history, who think that the greatest player ever is to be selected among Cruyff, Pélé and Maradona, it is a must to watch this film to get to know a player that this blogger, when a boy, had the pleasure to see in Copenhagen when he came with Alfredo di Stefano, Santamaria and Gento and the rest of the Real Madrid for friendly games. He was as magic as the others with his left foot and loads of goals.
It is impossible to give you the life of Puskas in this short text, and the film does it from birth to death, but the main thread of the biographical film is of course the link to history and the fate of the Hungarian nation in 1956. After having been the captain of the Hungarian national team, and after having won at the Olympics in Helsinki in 1952, and after the triumph of beating England 6-3 on Wembley in London, Puskas was, as all players at that level, a high-ranked major in the army. He was, contrary to some colleagues, not political active but on a trip with Honved Budapest, the club he played for, he decided to stay abroad and not go home to a country that was suppressed, or to a regime that accused him being a traitor of his country. He ends up in Madrid and becomes a superstar in Real, gets Spanish citizenship, plays a few matches for the country before he retires and starts a career as coach in multiple countries, paradoxically all of them run by the military – Spain, Chile, Greece…
The film narrative is constructed within a classical format: archive, interviews with his team mates of the Golden team, voice-off, interviews with his wife, clips from games, clips (not many) with himself being interviewed, text from his autobiography. It is all very well crafted and superbly researched, feels a bit too long sometimes (I could have done without Beckenbauer, Platini, Pélé, who dont really say anything important, and of course there must be other sides and stories about Puskas that we don't get) yet it has magnificent emotionally strong scenes as when he comes back to Budapest in 1981, after 25 years, and are greeted as the fine man, he was. Generous, warm-hearted, a character who will be remembered for his skills and for his impressive belly that he showed until 2000 in friendly games where he got alzheimer, dying in 2006.
Hungary, 2009, 116 mins.
http://www.hungarianquarterly.com/no194/22.shtml