Torquil Jones & Gabriel Clarke: Bobby Robson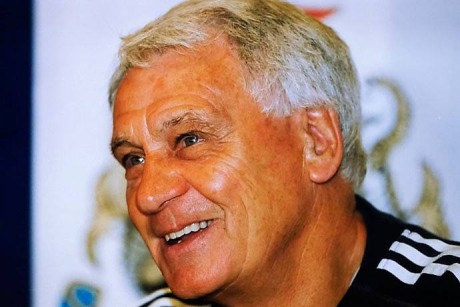 — with the subtitle "More than a Manager" is a well-made classic football documentary about the legendary Englishman, who played football 20 times for England and was a coach/manager for more than 50 years, not only in England but abroad in Holland, Portugal, Spain before he returned to his last job in the club, that was very close to his heart, Newcastle United. With classic I mean, interviews with players who praises Robson, archive with him, clips from games.
Bobby Robson (Sir Robert William Robson) (1933-2009) was a true British gentleman, an old school coach, for several of the players a father figure like for Paul Gascoigne, Gazza, this fantastic player who later on spoilt his carreer through alcoholism. In the film Gazza comes back several times saying how Robson was always checking how he was. To help him. The same for Brazilian Ronaldo, who was 19 when Robson took him to FC Barcelona supported by Danish coach, former star Frank Arnesen, who had discovered Ronaldo and brought him to PSV Eindhoven.
There are wonderful clips from Ronaldo's stay at Barca in 1996-1997 and this year is in many ways the focus of the film. Robson loved to be in Barcelona but the fans did not like his kind of football, even if the won titles for the Catalan club. He took over from Johan Cruyff and his style was not appreciated. Nevertheless, Pep Guardiola, who was playing for Barca that year, praises him, as does Robson's "translator", José Mourinho, who learned from him – well, my comment, the gentlemanship he did not take with him! At a press conference you see Robson, who had just been sacked next to the new coach, Dutch van Gaal… no charisma at all!
If not for him, I would not have had a career, says Gary Lineker (the best coach England has ever had, is another sentence from the brilliant goal scorer), the same goes for another great player Alan Shearer, who stresses that Robson saved Newcastle United.
The private Bobby Robson is also in the film. His widow talks nicely about their life together, and one of the sons, with private archive and information about how he overcome a handful cancer operations, except fort he last one…
England, 2018, 100 mins. Available on Netflix.