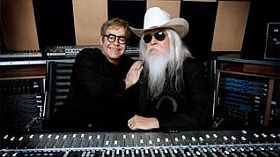 Could not resist, had to bring that photo, even if I have now idea about the film – it has its premiere at the festival. Here is what is written about it on the site:
The first big piece of news about the 2011 Tribeca Film Festival has broken, and it's a doozy. To open the 2011 Tribeca Film Festival, presented by American Express®, we've assembled some serious talent: award-winning director Cameron Crowe, seminal rock keyboardist Leon Russell, and Elton John (photo), with the latter performing live on April 20!

What do these three men have in common? Well, in 2009, Elton John teamed up with his longtime idol Russell to make an album called The Union, produced by the legendary T-Bone Burnett. Director Crowe—himself an avid music fan, having explored the musician's life in such classics as Almost Famous and Singles—decided to film their collaborative process, from writing through recording. The result is a documentary of the same name, the world premiere of which will be shown as the opening night film on Wednesday, April 20, 2011.
The festival continues until May 1st and has a strong documentary programme with 12 films competing in the so-called World Documentary Feature Competition (WDFC), plus another 9 docs to be found in a new section called Viewpoints. Films from USA and the UK dominate the selection for the WDFC, but what a pleasure to see that "Cinema Komunisto" by Serbian Mila Turajilic has been taken as an outsider, well done selection committee! As well as Swedish Gabriella Bier's "Love During Wartime" – love between an Israeli and a Palestinian. Look forward to see that film as well as "Marathon Boy", which will have its Danish premiere on "Dokumania" this coming Tuesday.
Also with Danish eyes – Eva Mulvad's "The Good Life", that has been running in cinemas in Copenhagen for weeks, is in the Viewpoint category that is characterised like this by the festival programmer: In our new Viewpoints section, we celebrate films that have unique, personal perspectives in their approach to their subjects, and which connect a wide range of global stories.
http://www.dr.dk/dr2/dokumania