Valentin Valchev: See you at the Eiffel tower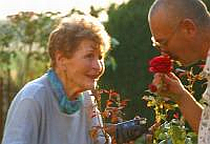 A Bulgarian filmmaker makes a film for a charming, warm and smiling American photographer, Marion Michelle. He met her during the research for a film to be made in the footsteps of Joris Ivens, who made his "The First Years" about Poland, Czechoslovakia, Bulgaria and Yugoslavia just after the war. Michelle was the scriptwriter of the film and had a relationship with Ivens until 1950. She is old and will not live long, and yet – as she says to the director Valchev: you are giving me a new life in the film, thank you.
This is what he does but this is not the only element worth noting from an extensive work that brings the viewer to Poland to look for characters that took part in the film from that time, as well as to Prague, briefly in a not very important sequence, contrary to the trip to Bulgarian town Radilovo to visit families of men and women who played in the film. The construction, maybe sometimes a bit too gemacht, and there are scenes you would not miss if they were not there, makes Valchev go to meet the different places and characters, for afterwards to bring the material to be shown to Marion Michelle. There is a lot of gold in terms of moving scenes in this light hearted, unconventional documentary.
As for Ivens, clips are part of the story as are lots of stills, but he is really not an important character for Valchev, who gives his heart to his character and makes Marion Michelle grow narratively in her lovely French garden house. The film is shown at idfa festival.
Bulgaria, 2008, 95 mins.