Viktor Kossakovsky: Vivan las Antipodas!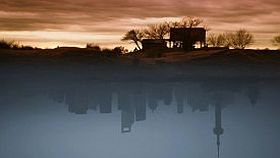 Finally! It has been and is being shown all over the world, the unique work of Viktor Kossakovsky, a generous and overwhelmingly beautiful film that also witnesses a new direction thematically, a new tone for a director whose filmography includes films that you want to see again and again, from "Belovs" to "Svyato" and "Tishe".
Finally, the film gets the first prize at an international festival. Not in Leipzig, where it was in competition, not in Barcelona where it was in competition – both places I had the impression that the juries thought that "Kossakovsky has already been awarded so many times" – but in Trento, at the 60th edition of a festival that deals with films about nature, especially mountains. The jury phrased their motivation precisely:
The international jury had no doubts in assigning the Golden Gentian – City of Trento Grand Prize to this film, which is an unforgettable homage to the diversity, magnificence and antiquity of Mother Nature. The jury appreciated above all the ingenuity of the idea, the artistic quality and the technical brilliance of the film.