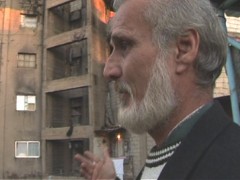 One of the participants at the workshop, Italian Davide Mastropaolo, asked me for advice on a film that a friend had made with himself involved as co-producer. The film is about to be finished but – have you heard about that before? – the filmmakers has run out of money for a film that they have basically financed themselves.
I saw the approx. 80 minutes long totally professional film about the Gaza Hospital in Beirut that now is a ruin where Palestinian refugees live a tough life. But that is not the story that director Marco Pasquini wants to convey. At least not the main story that is being told by some great foreign women, who worked at this PLO hospital in Lebanon in the beginning of the 80'es and did their surgeries on survivors of the massacre in the refugee camp Sabra and Chatila. In the film the women are brought back to Beirut to what was once the hospital they lived and worked in. To give us their experience with precision and emotion.
The film is thus about past and present, the past brought to us through fantastic archive material from the time of the massacre and later on in the 80'es, where the hospital stopped to work at the moment of the start of the Lebanese civil war. Readers of filmkommentaren.dk may have read my sceptical comments on "Waltz with Bashir" that takes place at the same time and at the same place, seen from an Israeli soldier's pov. This Italian film is for me much richer in content, a classical beautifully shot documentary. Please finish it and get it to the audience.
Photo: The barber in the film, another fine character.