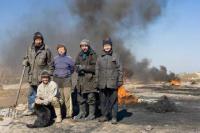 I was on a tour today. A magnificent tour. To the place of a film to come, and to the people who are characters in this work under development. It may sound like a kliché film, one of many about poor people, but what cameraman and director Mindaugas Survali has done is completely different and quite unique. For more than a year he has followed people who live in the forest next to a dumping ground, where they picked food and found metal pieces that they could sell on the market. Around 500 people were here and I am writing in past time as the dumping ground was closed March 2008, leaving very few people to stay.
Mindaugas has visited the people regularly since the closing and the 7 men and women, we met on our small excursion to the place outside Vilnius welcomed him warmly and showed generously filmmaker Audrius Stonys and me, how they lived with kitchen, living room, sleeping room, a lot of empty bottles, cats and dogs under the blue sky. With winter heating possibilities.
Earlier today we had – with filmmaker and in this case also producer Giedre Beinoriute – seen some edited scenes from the material of the film, that has the working title, "The Field of Magic". Excellent situations with characters beautifully shot over all seasons, small wonderful and touching stories that show the dignity of the dump people, who have chosen or have been pushed by destiny to choose to live a life outside the so-called normality. It will be a film made with heart and cinematic skills.