Visca Barca, Visca Catalunya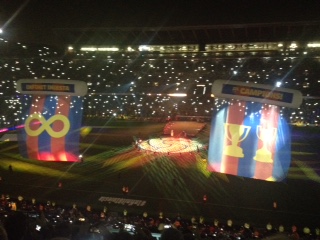 A small break from DocsBarcelona. To experience a historical moment. The end of an era. The last match of Andres Iniesta for FCBarcelona. And the celebration of winning the championship and the Copa del Rey. I was there thanks to and together with Joan Gonzalez in his seats of Nou Camp. It was an outstanding party with fans singing during the whole match A N D R E S I N I E S T A, the elegantier who has been at the club for 22 years (!) and is respected all over the football world. The match was quite ordinary, Coutinho scored a beautiful goal that made the 1-0 result, Iniesta was taken out 15 minutes before the end of the game to enjoy the extraordinary homage to him, and luckily Messi came in, in the middle of the second half, and it always changes the whole Barca game. Suddenly something happens where before it was a bit sleepy.
After the match there was a light show, music and a presentation of all the players; many came in with their kids in hand, some had babies on the arm – and Andres Iniesta made an emotional speech, tears in eyes as there was for several of his team colleagues.
I was there when Iniesta played his last match for Barca!!!