Waad al-Kateab & Edward Watts: For Sama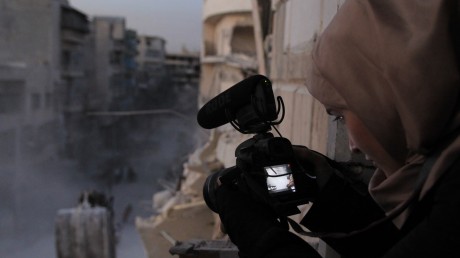 Waad al-Kateab, director and the woman behind the camera, the one who filmed and produced this film, puts a question to a nurse, who sits alone in the hospital in Aleppo. What's wrong? After a while he responds: Children have nothing to do with this! He does so a bit into a heartbreaking documentary from hell on earth, Aleppo 2016, where child after child are being rushed in to be treated after they have been hit by bombs during the siege of the city. Many of them are dead. What did children have to do with these massacres? Nothing of course. Two brothers follow their dead third brother, with despair in their eyes. Their mother arrives. Another mother shouts to her dead child "I have milk for you". Turning around to the camera "film, film this".
Waad al-Kateab's husband, the doctor Hamza – what a man, one of many heroes who help the injured 24/7 – worked in one hospital that was bombed, they move and find another place to set up a hospital, in constant danger. I dream red, Waad al-Kateab, says at some point – the images show blood being swept away from the floor. Doctor Hamza is reporting to the media, Waad is a journalist, who has been sending news to Channel4. They fall in love, get married and Sama is born, to whom the mother adresses her love and hope, an intelligent storytelling solution. As a viewer you are with the little girl and her parents hoping the best for her, even if "you Sama never cries like a child normally does". And the camera follows another family as well, where a boy does not want to leave Aleppo at the same time as he talks about the many friends, who are not there any longer. The word is kliché… but the film is full of fine poetic moments that communicate "we want to survive" and of course "we want to fight the regime of Bashar al-Assad".
"We won't make it", says Doctor Hamza, the father, "the regime is only one street away". But they do get away with the last convoy out of Aleppo after a phone call to the Doctor from a UN representative, who conveys to them "the offer" from the Russians that they can leave Aleppo. They have no choice, Waad al-Kateab is pregnant again, "our future is no longer in our hands", "saying goodbye is worth than death", for once you see Doctor Hamza in tears, you understand why having watched an extraordinarily strong film that jumps in time to balance the dark and the light, to make the film bearable to watch one could also say. How much horror can a viewer cope with?
The film has already received 20 awards and has just been released in the UK. Below there is a link to a fine interview with the two directors and the Doctor. In this the latter mentions that what we experienced in Aleppo is now being repeated in Idlib. "The world is just ignoring us", "where did we go wrong"!
USA/UK, 2019, 95 mins.
https://www.theguardian.com/film/2019/aug/25/for-sama-documentary-interview-waad-al-kateab
https://www.youtube.com/watch?v=RbmULjz1e6U