Why Poverty?/ Hvorfor fattigdom?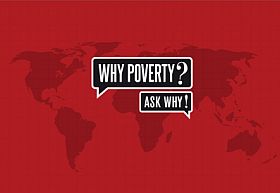 Danish text to inform the Danes where they can watch the series of films "Why Poverty", see more below in previous posting:
Det danske Filminstitut (dfi) har sammen med DR støttet produktionen af serien og DR står bag kampagnen, der er knyttet til filmenes tema. Filmene udsendes fra søndag den 25. November til torsdag den 29. November og der er på hjemmesiden oplæg til temaerne og til skolebrug undervisningsmateriale for grundskole og gymnasier.
Fra den 3. December kan danskerne se alle filmene på Filmstriben, de 30 kortfilm er allerede tilgængelige på youtube.
Dfi oplyser at " bibliotekerne der viser filmene og deltager med arrangementer, udstillinger m.v. er en del af en global cross-media kampagne, som når ud til over 500 millioner mennesker over hele verden."
Link til dr.dk/Undervisning/Hvorforfattigdom