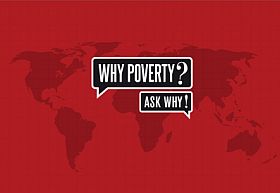 Today, Idfa guests and idfa audience had the chance to watch the eight long films in the long awaited and now well promoted series "Why Poverty?" – with four days to go before the worldwide launch that you can read about below.
Production is made by the non-profit organisation Steps International, that as logo on its website has "great stories can change the world". The key person behind this initiative as well the previous "Why Democracy" and "Steps for the Future" is Don Edkins, a true gentleman in the world documentary community, and a man who in his work in a true Griersonian way seeks to combine the documentary art form, campaign and information. Among the directors of the eight films are Chinese Weijun Chen, American Alex Gibney, British Ben Lewis and Brian Hill, as well as Danish Christoffer Guldbrandsen. Here is a text clip from the website of Why Poverty?:
… uses film to get people talking about poverty. We've commissioned award-winning film makers to make eight documentaries about poverty, and new and emerging talents to make around 30 short films. The films tackle big issues and pose difficult questions, but they're also moving, subtle and thought-provoking stories. They transmit around the world in November 2012, on more than 70 national broadcasters reaching 500 million people. They'll be accompanied by events designed to spark global and national debates and an online conversation to get people asking "Why Poverty?"
You can watch clips and shorts online now, and find out more about what's happening in your country.
After November, the documentaries will be available to everyone online and we'll begin an outreach programme, building on the momentum from broadcast…
Impressive, wish you all the best luck!