Yamagata Int. Documentary Film Festival/ 1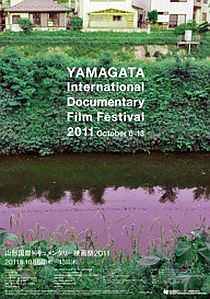 "Facing reality, what is to be done?" is the headline of the introductory text of the site of the bi-annual, reputed documentary film festival in Yamagata, Japan. In March this year the earth quake in Japan followed by the Fukushima nuclear power accident became top stories all over the world as well as its tragic consequences. Yamagata is a couple of hundred kilometers away from the epicenter of the earth quake. The festival organisers report here what they did. Respect!:
The Yamagata International Documentary Film Festival will hold YIDFF 2011 as previously scheduled, from October 6th to 13th, 2011.
We have of course been concerned whether guests from overseas would join us or not, in the wake of the Great East Japan Earthquake of March 11th and the Fukushima No. 1 nuclear power plant crisis. But it is exactly at times like this that our belief in the documentary film, with its power to observe objectively and express subjectively, and our trust that the invigoration of film culture will give impetus to the world, including the disaster-hit areas, pushes us to go ahead. We are proceeding with preparations to hold our festival according to schedule.
Meanwhile, since April 8th, we have been working in conjunction with other organizations to hold film screenings and children's filmmaking workshops at evacuation centers in Yamagata Prefecture and the afflicted areas. Through bringing cinema to the people affected by the disaster, we have encountered the true situation there, seen what the news does not show us, and been crushed by a sense of powerlessness. It feels as if this unprecedented catastrophe is forcing us to contemplate what cinema can do, and the value of capturing the truth on film.
We believe that the duty of the Yamagata International Documentary Film Festival at this point in time is to create a venue for the following purposes: to share the chaotic emotions felt by all those who experienced the disaster; to think about what we can do next; and to search for ways to the next step forward.
At YIDFF 2011, we will host a special screening program concerning the Great East Japan Earthquake. We hope to present a program that brings viewers into contact and with the victims of the disaster, with discussions that were shared, the raw emotions that emerged when we made films with the children, and all which came out of it. We look forward to receiving your continued support.
Yamagata International Documentary Film Festival