Z. Mirkovic: The Long Road Through Balkan History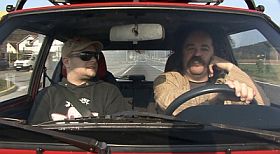 … and it is a road movie that talented Zeljko Mirkovic has made. Informative and done in an unpretentious way, this tv documentary takes the viewer from Austria in the North to the border between Macedonia and Greece in the South. On the road are two writers, Miljenko Jergović from Croatia (in the driver's seat) and Marko Vidojkovic from Serbia. They drive in a Yugo, the most popular car during the existence of Yugoslavia. Big men in a small car that breaks down a couple of times during the trip through Slovenia, Croatia, Serbia and Macedonia. A comedy frame to a subject-wise serious documentary.
They go to Bleiburg, where partisans in 1945 massacred thousands of fleeing ustashes – the Croatian, anti-Yugoslav fascist separatist movement. They go to Zagreb, talk to president Mesic about different issues including the eventual (impossible?) return of Serb citizens of Croatia to their homeland. They visit the birthplace of Tito as well as his mausoleum. They talk to different historians. Go to Vukovar, to witness the scars from the civil war. And to Belgrade to talk to, among others, writer and politician Vuk Draskovic to end up in Macedonia, where the population is said to be either Antic Macedonian or Slavic Macedonian.
It feels a bit too long, although it is all very lightly conveyed and informative, with short archive glimpses, and at a general level so also beginners of Balkan history will get something out of it. Must be good for education as well.
Serbia, 2010. 58 mins. (85 mins. film-version exists as well)