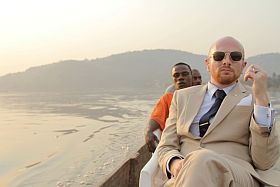 The 8th edition of a festival that has a strong programme with an international competition programme, a regional one, a retrospective with star director Jay Rosenblatt, a section with controversial documentaries like Mads Brügger's "The Ambassador" (photo) and Fredrik Gertten's "Big Boys Gone Bananas!", music documentaries, a selection of 14 films from the Danish Film School, a retrospective of Baltic documentaries from the last ten years selected by this blogger. And several other good offers to documentary people in the Croatian Capital. A small pitching session is also organised, as before, where regional projects are presented to a panel of potential investors.
The international competition programme of 29 long and short films includes among others "5 Broken Cameras" by Emad Burnat and Guy Davidi, "Bakhmaro" by Salomé Jashi from Georgia, "I will forget this Day" by Russian Alina Rudnitskaya, "Phnom Penh Lullaby" by Polish Pawel Kloc, "Ramin" by Lithuanian Audrius Stonys and "The Will" by Christian Sønderby Jepsen from Denmark.
The regional competition of 20 films presents fine films like Romanian "Noosfera" by Ileana Stanculescu and Artchil Khetagouri, Stefan Valdobrev's portrait of a football fanatic "My Mate Manchester United" and Nikolas Geyerhalter's "Abendland". Plus a lot of films that I am in the lucky position not to have seen, yet, including "Family Meals" by Dana Budisavljevic.
Reports will be posted from ZagrebDox, a festival created and run by the tireless Nenad Puhovski. And a PS. The website of ZagrebDox is clear, beautiful to look at, competent in text and full of trailers to watch. Bravo!