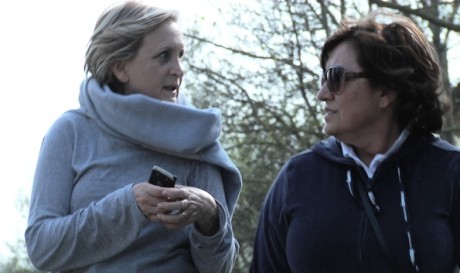 Step by Step is the way that Croatian ZagrebDox festival has followed to announce its program for the 15th edition. The last couple of days the inviting website of the festival – link below – has told its readers what to expect in the competitive sections at the festival that starts February 24 and goes on until March 3. There are 18 films in the regional and 19 in the international category, plus "Happy Dox", "Biography Dox", "Controversial Dox", "Masters of Dox", "State of Affairs"… and more.
In the regional competition you will find films praised on this site, Eszter Hajdú's brave critical film from "Hungary 2018" and Claudia Tosi's "I Had a Dream" (photo) that also deals with politics through two – the word again – brave wonderful women. Also I can warmly recommend the short film "In Between" by Samir Karahoda from Kosovo, it has style and message.
From the International program loyal readers of this site might remember the text about Andrei Kutsila's beautiful and thoughtful "Summa", those who can read Danish "Island of the Ghosts", reviewed and loved by colleague Allan Berg, the promising 1968-film "My Unknown Soldier" by Anna Kryvenko and "The Raft" by Marcus Lindeen.
I will be at the festival – looking very much to be present at a festival that has a high quality – short and long documentaries, award winning films from all over. Read all about it, good texts present the program on the site: