ZagrebDox Pitching, East Beats West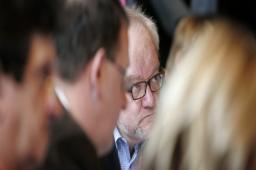 15 documentary projects were presented at the ZagrebDox pitching thursday the 28th of February. There were 9 commissioning editors around the table. 4 from the West (Arte, YLE, ORF, Jan Vrijman Fund) and 4 from the region, from the Bosnian, Croatian and Macedonian public channel plus from B92, the eternal opposition channel when it comes to Serbian political reality. On top of that a representative from the new Croatian Audiovisual Institute that is to distribute public money for film.
Only the Croatian television seems to have funding for independent productions, the others can offer archive material as their contribution. A generous award from the ZagrebDox festival (5000€) was given to the project "Village Without Women" by director Srdan Sarenac from Serbia and producer Estelle Robin from France. The price is for the further development of a film project that is very promising and has a big potential for travelling internationally.
The jury for the price was Cecilia Lidin from EDN, Gena Teodosievska from Macedonian Television and Franz Grabner from ORF (Austria). Let me – I was moderator for the session and trained the pitchers two days in advance together with Cecilia Lidin, the best moderator North of the Alps – point at three other projects with an international potential and high film quality: "Djangarchi" by Croatian team Zoran Krema and Tiha Gudac, "And Where is Valter" by Bosnian award winner Jasmila Zbanic and "Cinema Komunisto" by Mila Turajlic.
The latter, having been on the market for a long time, got the ORF on board during the pitching session. Yes, again you can say without hesitation: East Beats West. It is from this region and the rest of the Eastern Europe that the original stories come with a clear artistic ambition. Here there is still a wildness in approach, close to the free documentary that we all want to see.
Link to ZagrebDox site: http://www.zagrebdox.net/html/en/zagrebdox_pro.php Still: Blog writer Tue Steen Müller at the pitching forum.