Zeina Daccache: 12 Angry Lebanese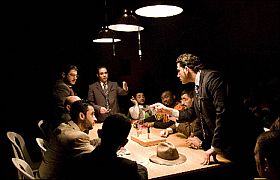 The director of this impressive documentary is also the director of the impressive drama therapy project at the Roumieh prison in Lebanon. Zeina Daccache worked for more than a year "inhouse" with a group of inmates – and her work changed their lives. This is at least what the film communicates and I believe the film and its director, who has a tough job in a male prison, but who is also a tough cookie, who wants her project to be succesful!
"12 Angry Men", the film from 1957 with Henry Fonda in the leading role, an excellent psychological drama with twelve jurors to decide whether the accused was guilty or not… maybe you remember it, a brilliant text put into film, and such an obvious choice for a play to be performed by the men in prison, who have been convicted for murder, rape, drug dealing! In the film you follow the rehearsals of the play, the moments of crisis, the many moments of joy, supplemented by talks to the camera of the inmates, who give us their stories and background for their crimes, and comment on what their participation in the drama therapy has meant for them. In which way they have been able to identity with the roles they are to play. They also sing and dance… and they describe the conditions for the inmates in a hard prison. Building of self confidence, letting go the emotions, opening up to the outside world, simply doing something. And the opening night followed by tears, and visit from officials, helping an "early release law" be accepted by the Lebanese parliament. They are guilty these actors in the prison, they have been locked up because of their crimes, but they need no second punishment as it is said in the film. Respect for this initiative, and for a well done and touching film.
The film won the Audience Prize at Dox Box 2010.
http://www.facebook.com/pages/12-Angry-Lebanese-the-documentary/243363177059
http://news.bbc.co.uk/2/hi/middle_east/7914973.stm