Agnès Varda Online Festival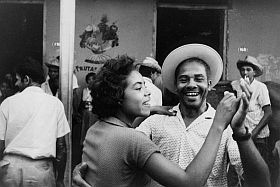 What a feast! And don't say you can not afford it – it is for free! And it lasts until February 17!
I am referring to another generous offer from "your online documentary cinema" provider DocAlliance.
17 films of Agnès Varda, voilà.
Including "The Beaches of Agnès", "The Gleaners and I", the documentary she made about her late husband Jacques Demy, "L'univers de Jacques Demy" and several short films like "Salut les Cubains" (photo) from 1963, that has the following description on the site of DocAlliance:
"Four years after Fidel Castro came to power, Agnès Varda brought back from Cuba 1,800 photos and used them to make an educational and amusing documentary."
Have a nice festival and tell others about it!