Boycott Iranian Cinema Vérité Festival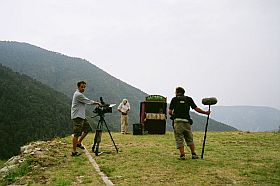 IDFA (the International Documentary Film Festival Amsterdam) put a text on its website the other day with an appeal to ilmmakers with a film selected for the Cinema Verité Festival to seriously consider withdrawing their film and decline any invitation from the festival as Cinema Verité Festival is a government-organised festival, run by the same government that intimidates and arrests filmmakers."
I know that many do follow this appeal, the Zelig film school in Bolzano being one of them. On Facebook I found the following exemplary letter from Polish filmmakers with a reaction from an Iranian filmmaker:
Dear Documentary and Experimental Film Centre. After hearing the stunning news that filmmakers Mojtaba Mirtahmasb, Mehran Zinatbakhsh and film distributor Katayoon Shahabi were not released from the unjust detention we decided to take a stand on this overwhelming circumstance.

This information shocked us just as it did many of our friends working for festivals all over the world. After receiving so many e-mails asking for support we cannot stay aside. Yet there is only one way in which we can raise our strong objection!
As a solidarity to the filmmakers that are being kept imprisoned and a strong disagreement with the human rights policy undertaken by the Iranian government we request to withdraw our films from the participation in Cinema Verité Iran International Documentary Film Festival.
The titles are as follows:

Takie życie/ That's life by Daniel Zielińskii. 

La Machina (PHOTO) by Thierry Paladino. 

Smolarze/ Charcoal burners by Piotr Złotorowicz. 

38,5 by Grzegorz Dębowski

. Komeda, muzyczne ścieżki życia/ Komeda a soundtrack for a life by Claudia Buthenhoff-Duffy

. Planeta Kirsan by Magdalena Pięta

. This decision was made unanimously with all the producers and filmmakers and expresses our clear standpoint to this unjust violation of human rights. 


On behalf of Krakow Film Foundation, 

Katarzyna Wilk and Zofia Ścisłowska.
Thank you so much for your support! I would like to thank Polish filmmakers' expression of solidarity on behalf of dozens of intimidated Iranian filmmakers. Warm regards 

Maziar