Cattin & Kostomarov: The Mother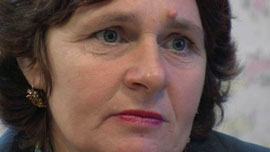 This international renowned film by Swiss Antoine Cattin and Pavel Kostomarov reaches Danish Television (DR/TV) on tuesday October 11 as part of the strand Dokumania and under the Danish title, "Den russiske mor". The film was at the Magnificent7 European Feature Documentary Film Festival 2009. Here are the words from the catalogue:
This is the story that resembles novels by Dostoevsky. The main character is called Lyubov that means Love in Russian. When she was a girl, her mother sold her for a bottle of vodka. At the moment, many years later, she is raising on her own her own children, nine of them and she wants to adopt the tenth one. Over the three-year period filmmakers have been recording the life of Lyuba and her children, presented in the spirit of cinéma vérité. They have made unusually strong, raw yet also poetic portrait of a woman who, despite her ill fortune, manages to express her love for her children and live a dignified existence. It's a story about an ordinary woman with strength of a super hero. This remarkable record of the dramatic and intimate moments in Lyubas life at the same time offers a highly authentic look at the bleak reality of todays Russia. The film has given new perspectives even to the Russian audience. Equally successful in the West and in the East, the film has gained big and important awards all over Europe and it has been winning at all leading festivals in Russia. (Svetlana and Zoran Popovic)
Liouba escaped from her violent husband with all her 9 children… One more sad Russian story, you think and then you watch a universal story about Love, simply, it is tough, life is tough for her but nevertheless the film leaves you with optimism on behalf of humanity: If she can make ends meet, then there is hope. Respect and love and cinematographic skills make this a unique experience from start till end. What a character! (Tue Steen Müller).
So IN DANISH: SE DEN FILM! And for others – the film is available on the Docalliance vod.
Switzerland, Russia, 2007, 80 mins.
http://docalliancefilms.com/film/7475-la-mere-french-version/
http://www.magnificent7festival.org/pages/2009_eng.php?film=2
http://www.dr.dk/DR2/Dokumania/Programmer/2009-10-11/Dokumania_Den_russiske_mor.htm