Cinema Eye Nominations Announced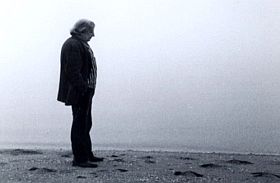 It's a rather complicated nomination system that the Cinema Eye works with, but the people involved (taken from the website that explains all in details, link below) are all names that guarantee for quality. But what is Cinema Eye:
"The Cinema Eye Honors for Nonfiction Filmmaking were founded in late 2007 to recognize and honor exemplary craft and innovation in nonfiction film. Cinema Eye's mission is to advocate for, recognize and promote the highest commitment to rigor and artistry in the nonfiction field."
There are nominations in a wide range of categories, from Best Film, of course, to Graphic Design to Original Score – and there are awards to be given (this all happen in January) to Production and Editing and Cinematography.
So, which films are nominated… well "The Act of Killing" is nominated in 5 categories, including Best film and Direction. In both cases it has strong competition from (other) masterpieces like "Stories We Tell" and "Leviathan". In the direction category (but not in Best Film, why not?) you also find "First Cousin Once Removed", which is also up for, and must be the favourite of that category, Best Editing.
5 films in each category, and there are several that I have not seen, and there are several that could have been there but did not live up to the regulations. So the following personal choices are with all kind of reservations, Best Film "Stories We Tell" or "The Act of Killing", Best Direction "First Cousin Once Removed", Best Production "The Act of Killing", Best Cinematography "Leviathan", Best Ediitng "First Cousin Once Removed" (photo)…
Anyway, this is a good initiative that celebrates the documentary genre.