Cinema Vérité in Iran – Winners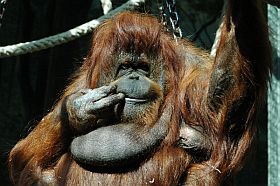 We have written about the Cinema Vérité documentary film festival, held in Tehran from November 7-12 under the slogan "Reality for All" – see below. The winners of the festival have been announced like this:
Iran's 4th Cinema Verite International Documentary Film Festival has announced winners during a ceremony held in the capital city of Tehran. Iranian filmmaker Siavash Sarmadi won the event's Best Film Award for his political documentary Searching for Reality. The festival's Best Film Award in the international section went to French director Nicolas Philibert's Nenette. Veteran filmmakers Morteza Sha'bani and Khosrow Sinai were also honored with lifetime achievement awards during the event's closing ceremony.
Other national section award winners of this year's festival were as follows: Best Short Film: Live Desert, Hossein Safi. Best Mid-length Film: Ariobarzanes, Khosrow Heidari. Best Cinematographer: Hossein Safi for Snails. Best Editor: Bahareh Khorrami and Roya Majdnia for Dim Room, Twilit Window. Best Narrator: Shahram Derakhshan for The People Who Have Everything,Best Sound Effects: Akbar Ebrahimi for Live Desert
The festival screened films from Turkey, Sweden, Canada, the US, Argentina, France, Germany, China and Brazil among many others.