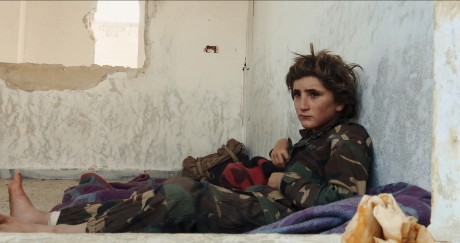 Sunday morning I took a walk in the Eixample of Barcelona, where my home has been since the beginning of the festival. Lots of parents were in the street with their kids. Happy moments for boys and girls to be out in the good weather to play, have an ice cream, have fun, make friends…
In the cinemas of DocsBarcelona the reality was different for the children. I will never forget the two boys from "Of Fathers and Sons" by Talal Derki, Osama (Photo) and Ayman, the first one to be sent to a sharia camp by his father, the latter staying at home to take care of the smaller siblings and the father, who had lost his foot at a mine explosion, and who is the one, who decides on the future of Osama to be a jihadist warrior. It's pretty hard to watch Osama, this soft boy, having his childhood spoilt by religious fanatism.
Another child who lives in a war zone is Oleg in "The Distant Barking of Dogs" by Simon Lereng Wilmont, a film that takes place in the Eastern part of Ukraine. Oleg lives there with his grandmother, a relationship that is described with sensitivity. How to live in the neighborhood of bombs exploding, how to cope with the scars it gives a child when he grows older?
And what about Syrian Zeid, who lives with his father and brothers in Spain in the fine film "Hayati" by Liliana Torres and Sofi Escudé. In a materialistic way, he does not suffer, but his mother stays in Turkey and he communicates with her via skype…
Other children are very much present in "Miss Kiet's Children" by Petra and Peter Lasaster, where Miss Kiet is teaching refugee children language and how to adapt to live in the Netherlands. My hero here is the little Haya, who struggles with her new situation in a way that you get tears in your eyes.