DocsBarcelona The War Room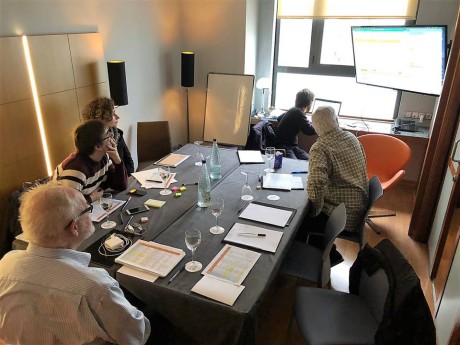 Well, it was quite friendly but of course there were – and should be – discussions about which films should be taken for the DocsBarcelona 2019 edition in May. On the photo you see the selection group except for the man, who took the photo, Joan Gonzalez, Director of the festival and CEO and founder of Parallel 40. At the end of the table me, Head of Programming, from left Daniel Jariod, filmmaker and teacher, Martina Rogers, visual artist and involved in DocsBarcelona for many years, as is Pol Roig Turró, filmmaker and the most important person for this meeting having coordinated the process, giving the 3 days a good flow, and Diego Mas Trelles, Head of Industry, producer and director.
The process? All members of the group had watched films in beforehand and made their priorities. During the three days 15 films had to be selected for the Panorama section, 8 for the Latitud and 5 for the What the Doc, that is for more daring and innovative documentaries. All of them in competitive sections. On top of that some films were put for special screenings, often with a debate attached. In the coming weeks the staff of DocsBarcelona will contact those whose films have been taken.
A lot more about DocsBarcelona is to be found on