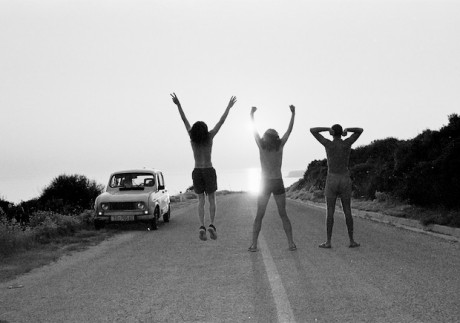 It is a post-festum post this one. I was in the jury at the Sarajevo FF, I was writing a bit about the lovely MakeDox in Skopje so I had no time to follow DokuFest in Prizren, a festival I visited in 2016 and has followed and written about from distance since 2010 : The festival ended August 25.
"I was at the DokuFest(ival) in Prizren in 2016. Great experience with good films and an atmosphere of generosity in a beautiful place. », I wrote on this site in 2016.
I met the generosity again this year as Eroll Bilibani gave me online access to watch films. I did so for a couple of days and was very much impressed by the winner of the competitive section "Balkan Docs":
"Once Upon A Youth" by Croatian Ivan Ramljak. It is very seldom you see a feature length documentary debut told in first person so excellently balanced between archive footage and the brilliant b/w photos taken by the protagonist, Marko Caklovic, an artistically multi-talented young man, who was hanging out with the director and other close friends, having affairs, better said: falling in love with beautiful women, drifting from place to place, falling into a depression, taking drugs, dying from an overdosis. What happened, why did it have to go that way, you never get the answer; the friends who tell the story were sort of seduced by the charismatic Marko, apparently impossible not to be attracted to, but also a loner who never really opened up. It's a film that depicts an outsider generation in the 90'es, who stayed in Marko's mother's appartment as she was travelling a lot or in other places of the friends, partying, getting drunk and/or high, watching films, listening to music – and Marko took pictures most of the time. The tone of the film – there is a melancholy driving the story but it is never sentimental and you never see the friends telling the story of Marko, you hear their voices. "Ah, you read Baudelaire", Marko says to one of the girls, when he sees that she has "Fleurs du Mal" in her bag, they find each other – for a period of time.
I tried to watch Rithy Panh's "Irradiated". The Cambodian filmmaker is a master, no doubt, and he has brought us so many personal films from his country that are of high artistic quality as well as they have informed us about the horrors of Pol Pot and his regime. His new film was for me impossible to watch. He is using archive from Hiroshima, Nagasaki, the Nazi concentration camps, the atrocities in Cambodia etc. through the whole film. Why? – in an interview made by Variety – link below, and in the adjoint text he "…reflected on the work of Claude Lanzmann, who chose not to use gruesome archival footage in his iconic documentary "Shoah," and Alain Resnais, who did in "Night and Fog," excerpts of which appear in "Irradiated." In the end, he decided to make use of such imagery because it helped him delve deeper into his understanding of his own dark past, and the broader question of human evil. "I watched a lot of images and decided to use only those that had an echo on me, that I came to [having had] the same experience," he said." Aesthetically the film is superbly built using a three screen format. He was asked why, the answer was "… I wanted the audience to pay attention to what they watched"!
In a way I felt like Alex in «A Clockwork's Orange", who is forced to watch material like the mentioned. The film "Kubrick on Kubrick" that was also shown in Prizren, is interesting because of the interview it is based upon – a taped interview by French film critic Michel Ciment and of course it is fascinating to hear Jack Nicholson talk about Kubrick as the totally crazy director he was, who often asked for tens of takes to be taken for a scene. The film is full of clips from his work, and you want to see his films again!
What else to say other than DokuFest – documentary-wise – had all the good ones like the Romanian hits "Acasa.My Home" and "Collective", the Ukrainian "The Earth is Blue as an Orange", the Iranian "Sunless Shadows", "State Funeral" and so on. Take a look, link below.
https://variety.com/2020/film/news/rithy-panh-irradiated-sarajevo-film-festival-2-1234747539/