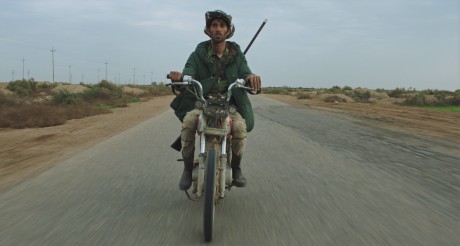 It was here that it started, Gianfranco Rosi said looking at the almost empty Tuschinsky Theatre, where his very interesting and inspiring talk with artistic director of IDFA Orwa Nyrabia took place. I attended the first part of it and took notes but had to leave to raise a glass for and cry a bit for Valentina Pedicini, who passed away the same morning as the talk took place; it was Rosi, who told Nyrabia, who then communicated the tragic loss to the viewers in the theatre and online.
Going back to Rosi, who claimed that the key words for him as a filmmaker is Time Trust and Encounters. It was here that it started – my first film "Boatman" (1993) was shown here. It was through making that film that I learned about documentary filmmaking. I graduated from the New York University Film School, went to India, visited the Ganges, met Gopal, the boatman, was there for two months without filming, took my camera for a one-day tourist trip with Gopal, saw the material and discovered that it was not good enough for a film. Went away and came back again and again to shoot with Gopal. I just went, there was no telephone contact, but he was always there on the river.
At that point of the talk Orwa Nyrabia showed a clip from the 50 mins. long – yes it is – magnificent film, shot on 16mm, lovely format (my comment), a clip where Gopal talks about the foreigners, who always come with their "why, why, why, why" related to – that we see – corpses wrapped in white cloth being dropped in the same water, where people take their baths.
I was asking questions, said Rosi, you can see that in the beginning of the film, but I stopped and have since then NOT put any questions from behind the camera. The film actually became an emotional reconstruction of that day, where I was a tourist. With this film I learned what it is about: waiting for the right moment. And Time Trust and Encounters.
Rosi is a classical observational poetic filmmaker. He is at IDFA as a guest of honour with his 6 films and he has put together his Top Ten. For accredited guests you can watch Boatman online – and/or you can go to the DocAlliance vod, where you can stream it for very little Money: https://dafilms.com/film/8918-boatman
Photo from his last masterpiece "Notturno"