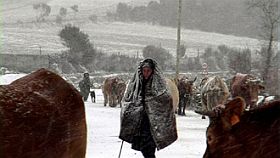 The festival in neighbouring country to Georgia, Armenia, started yesterday. This 9th Yerevan International Film Festival runs until July 15 and has a fine international documentary competitive section within its red carpet profile programme that has Agnieszka Holland and Alexander Sokurov as honorary guests.
No surprise that the festival has decided to show "5 Broken Cameras", "Planet of Snail" and "Special Flight", titles that go everywhere, deservedly, but bravo that Georgian Salomé Jashi's "Bakhmaro" will be screened, as well as local Bars Media's long awaited "Donkeymentary", Goran Radovanovic newest "With Fidel, Whatever Happens", Turkish Enis Riza's "Recycling Life – I found Dostoyevsky in the Garbage" and Marc Weymuller's "La vie au loin" (photo).
So-called industry activities also pop up at the Golden Apricot. As example EDN's Mikael Opstrup holds a documentary masterclass on funding and has individual meetings with documentarians attending the festival.