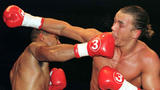 The big international documentary festival in Toronto is running now and until May 10 and they do a wonderful promotion and information work for the audience and for us who are not there. Annotations on the film, written interviews, it's all there… Lots to pick up…
… including some, unfortunately, hopeless "daily updates" video clips with the staff members presenting their favourites films of today. Hopeless because they are amateurishly shot and sometimes it is difficult to hear what they say because they are placed (like the artistic director Sean Farrell) in a sofa, "relaxed" with disturbing sound around them, pitching the films in a small talk way. The trailers would have been better on their own without these unprofessional intros.
Photo from Norwegian Håvard Bustnes award-winning "Big John".