Juste Eigminaite Writes for Filmkommentaren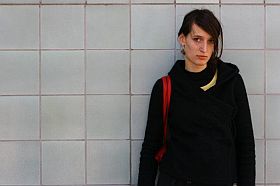 A gift to filmkommentaren and its readers! Juste Eigminaite from Lithuania contacted us to offer texts from her US documentary festival tour that started at Sundance and will go on until end of June. Below you can see the lists of festivals that she will visit.
Juste Eigminaite has a bachelor at Roskilde University, Denmark in Communication and Cultural Encounters, and a master at Copenhagen University in Cognition and Communication. She is 28 years old and came to Denmark when she was 20.
She "is interested in documentaries for many years and I am deeply in love with people in general. I praise Danish documentaries for very distinctive storyline and Eastern European films for the poetic film nature. I love films that have both: a poetic film with a strong storyline. The best recent example would be "How to pick berries" by Finnish director Elina Talvensaari".
The link is here: http://www.youtube.com/watch?v=NQNo-06pEg0
Photo: Juste Eigminaite