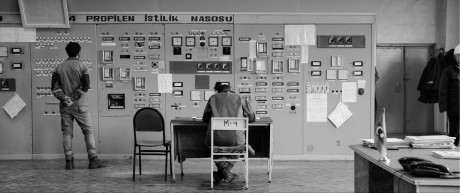 … her 65 minutes long documentary has its premiere in Karlovy Vary tonight. The play- and colourful Latvian director is very busy on Facebook, where she for a long time has posted great photos, the last couple of days also from Karlovy Vary, where she is with her cinematographer. She is one of few veteran directors, who is always able to surprise the audience.
In an interview before the premiere at the festival's documentary competition, the director said to ScreenDaily's Laurence Boyce : « The first important thing to understand was not where to film but with whom to film. It was a very important decision to work with cinematographer Gints Berzins with whom I'd studied with at Moscow Film School (VGIK). We had created our common understanding about what film is and made many films together. »
… a guarantee for something special, which she already promised us at the Baltic Sea Docs pitch in 2017, where she showed stunning images created by Berzins and by the way also, as the show-woman she can be, threw plastic spoons to the panelists at the table. Berzins has also made several films with another Latvian director, Viesturs Kairiss, where the camerawork is far from mainstream.
« (the dialogue-free film is) a deceptively simple affair in which Pakalnina charts the creation of a meagre plastic spoon. But within this simplicity lies a nuanced commentary on both the wastefulness of human society and the magnificent spectacle of human endeavour. »
Looking forward to see the film on a big screen somewhere at a festival or in Riga in September ?