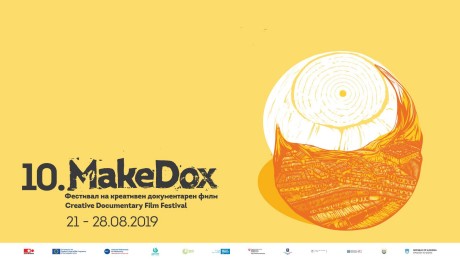 I have written several posts about the Sarajevo FF and more will follow. But let me leave it for a while to put a focus on the festival 645 km to the South, in Skopje, North Macedonia, MAKEDOX is the name, a darling for those of us who have been there because of its high quality in selection, its debates "under the fig tree", its outdoor screenings and the way you are welcomed by Petra Seliskar, her family and friends, who are the hosts and the organisers.
The festival starts tomorrow, the 19th and continues until the 26th.
As usual there are several competitive categories set up. A Main Program with films like the wonderful "Our Time Machine" by Yang Sun and S.Leo Chiang that with its puppet master Maleonn makes me think about the Quay Brothers. And the investigative Romanian "Collective" by Alexander Nanau. Another Romanian (gosh, they make good documentaries in that country these years) by Andrei Dascalescu, « Holy Father », the Swedish « Only the Devil lives Without Hope » by Magnus Gertten, and Dutch John Appel's « Once the Dust Settles ». Appel makes a masterclass during the festival that has a country focus on Holland.
Newcomers is another section that includes strong films as Ukrainian award winning « The Earth is Blue as an Orange » by Iryna Tsilyk, Romanian (again !) « Acasa,My Home » by Radu Ciorniciuc, winner at Krakow FF – and Danish Susanne Kovács impressive « It Takes a Family », and Georgian « A Tunnel » by Nino Orjonikidze and Vano Arsenishvili. The latter I promised to watch on a big screen but I have not found one yet!
There are short films, student films, films for kids and youth – and five juries including one for « moral approach », love that !
A Forum has been established, projects to be pitched to regional film funds… there is so much positive energy in this festival.
Docs under the Fig Tree… the famous get-together-to-talk-docs of the festival is also on the agenda… I wonder how Petra Seliskar will handle that online? I have seen the themes to be discussed under the tree, fascinating, you have to register, contact the festival if you want to take part and – if I get it right – you will be given a Zoom link.
Good luck!