Mark Cousins: The First Film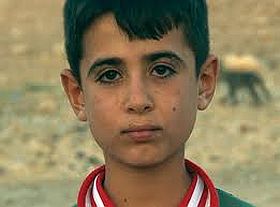 "Look at this landscape, it makes you want to film it", he says, Mark Cousins, film historian and writer and with "The First Film" also a brilliant essayistic filmmaker. With his wonderful Scottish accent, or is it Northern Irish, that is where he comes from, a Belfast boy he calls himself, he takes the audience on a journey to Kurdistan in Iraq, to Goptopa, where atrocities happened in the 80'es, but this is not what makes Cousins go there, no, he wants to meet children, challenge their imagination and have them express themselves. Verbally and through small cameras that he brought along.
Cousins, his text (hello film teachers, this is how a voice-off text should be) and his visual embracement of a beautiful, yet haunted place on earth, is enjoyable to watch and also to listen to, as Cousins also dares to put on music that comes from the classical repertory and not from the more obvious, and because of that maybe kliché-filled local Kurdish. He is constantly fighting the clichès, he wants to take this film – this hymn to childhood and imagination and to the power of film – as far away as possible from what we normally associate when the name of the country is mentioned.
"There is magic everywhere", Cousins says and proves with his camera. We meet the children, we see them watch films that the film crew brought along, we see the clips they made, all these wonderful wee boys and girls from Goptopa. It is one long hug with pauses in text and dialogue, where you are invited to enjoy.
Scotland, 76 mins. Producer Gil Parry, 2009
Seen in Belgrade at Magnificent7, clips from the film are available online.