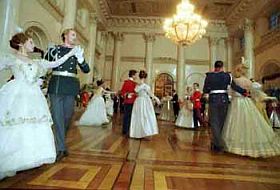 … but there has been time to visit the Hermitage museum and fight one's way to study the great collection of Rembrandt works (oh, documentarians, go and study how he caught the magical moments when he did his portraits) and the two "Madonna with Child" by Leonardo da Vinci – as well as an exhibition of Picasso set up due to the French-Russian cultural year.
I write "fight one's way" as the Hermitage – apart from being one of the most wonderful art museums in the world – also is a battlefield where tourist groups from all over, led by sometimes very loud-speaking militant guides, who want their group to have the best views. And the best place to take photographs. Why is it not possible to see, just see, without gazing through a camera?
Film-wise the visit made me want to re-view Alexander Sokurov`s "Russian Ark" (photo), a one-shot feature length film interpreting the museum magnificently, made to celebrate the 300 years of St. Petersburg. I remember the head-shaking commissioning editors when the film was pitched at the idfa forum. Not possible, and why a one shot, they said, led by BBC's Nick Fraser – they were very much wrong the rating hunting tv executives. The film is available through many dvd outlets.