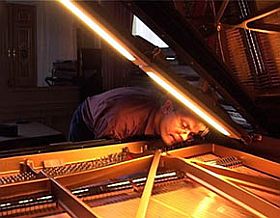 They launch it as "From Yamagata through IDFA to Oscar", the documentary section of the 32th Moscow International Film. They are Russian documentary director Sergey Miroshnichenko and producer Grigory Libergal. The two competent people make the selection for the fifth time with the aim "a selection of outstanding documentaries from the last year – winners of prestigious film festivals along with films with good box-office revenue".
This year 23 documentaries will be screened in the program. The section is called "Free Thoughts". The ones in bold have been reviewed and/or written about on this site:
THE COVE, dir. Louie Psihoyos, USA. THE YESMEN FIX THE WORLD, dir. Andy Bichlbaum, Mike Bonanno, Kurt Engfehr, USA. PIANOMANIA (PHOTO), dir. Lilian Frank, Robert Gibis, GERMANY, AUSTRIA. POSTE RESTANTE, dir. Marcel Lozinsky, POLAND. CHEMO, dir. Pawel Lozinsky, POLAND. THE MOST DANGEROUS MAN IN AMERICA, dir. Judith Ehrlich, Rick Goldsmith, USA.
THE PLAYER, dir. John Appel, THE NETHERLANDS. WE LIVE IN PUBLIC, dir. Ondi Timoner, USA. ANOTHER PERFECT WORLD, dir. Femke Wolting, Jorien van Nes, THE NETHERLANDS. RESTREPO, dir. Sebastian Junger, Tim Hetherington, USA. LA VIDA LOCA, dir. Christian Poveda, FRANCE, MEXICO, SPAIN. A FILM UNFINISHED, dir. Yael Hersonski , ISRAEL, GERMANY. THE WOMAN WITH THE FIVE ELEPHANTS, dir. Vadim Jendreyko, SWITZERLAND, GERMANY. LA DANSE – THE PARIS OPERA BALLET, dir. Frederick Wiseman, FRANCE, USA. OCEANS, dir. Jacques Perrin, FRANCE, SWITZERLAND, SPAIN, MONACO, USA. THE LAST SCREENPLAY, dir. Javier Espada, Gaizka Urresti, SPAIN. IRON CROWS, dir. Bong-Nam Park, SOUTH KOREA. LUMIKKO, dir. Miia Tervo, FINLAND WASTE LAND, dir. Lucy Walker, UK, BRASIL. LAST TRAIN HOME, dir. Lixin Fan, CANADA, CHINA. THE FORTRESS, dir. Fernand Melgar, SWITZERLAND. BANANAS!*, dir. Fredrik Gertten, SWEDEN, AUSTRIA, USA, SWITZERLAND. FROM ARARAT TO ZION, dir. Edgar Baghdasaryan, ARMENIA
Moscow International Film Festival takes place on June 17-26,