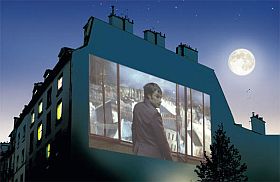 If you are spending time in Paris in August, here are a few ideas, which might not be in your travel guide.
The Forum des images (recently renovated and situated down in Les Halles, great cinema and great program) organises for the tenth time le Cinéma au clair de lune, open air projections of various classics (Rohmer, Godard, Renoir, Beineix…) who all has Paris as a setting, shown in different places around Paris (Montmartre, Place des Vosges, Parc Montsouris…). It runs from August 4th to 22nd and it's all for free. Take a look at the program:
http://www.forumdesimages.fr/fdi/Festivals-Evenements/Cinema-au-clair-de-lune
In Milly-la-Forêt, 50 km South-East of Paris, lies the house of Jean Cocteau. It has just been opened to the public end of June this year. Cocteau bought the house in 1947 and lived there until his death in 1963. The house and the garden have been carefully restored.
"With the advent of success, Milly became a sort of refuge, far from society life. Irises and peonies, an orchard full of fruit trees, and the dogs and cats were always there to welcome him. The poet came to rest, to center himself, and with his companion Edouard Dermit to receive friends, stroll in the gardens and over the bridges crossing the castle moat, take time in his gardens, work late in his office or in his attic workshop.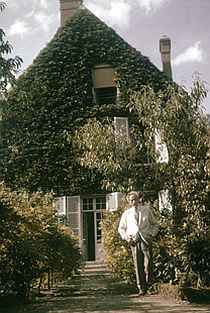 After the poet's death in 1963, and until his own in 1995, Edouard Dermit kept the sitting room, office, and bedroom of the poet intact, allowing for their perfect restitution today. He also protected 500 of Cocteau's most beautiful works which he inherited, a first selection of which we now display here.
In addition, there is a permanent exhibition of some of the most beautiful portraits of Cocteau by Picasso, Warhol, Blanche, Modigliani, Man Ray, and more.
Purchased and restored with support from the Ile-de-France Regional Council and the Essonne Departmental Council, this house becomes, by opening to the public, a unique exhibition venue and place of memory." (Pierre Bergé, from the website)
Maison Jean-Cocteau, 15 rue du Lau, 91490 Milly-la-Forêt. Tél. : 01 64 98 11 50. Open from Wednesday to Sunday 10 am-7 pm.