News from Paris: Tarkovsky for children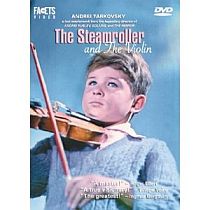 In France kids have Wednesdays off from school. For those who have the possibility, it is a day to discover the multiple activities Paris has to offer children. Le centre Pompidou, Beaubourg to Parisians, holds every Wednesday of the school year the program L'Écran des enfants, an initiation to cinema for children under 13.
I went with my daughter Asta, 8 ½, to see Andrei Tarkovsky's The Steamroller and the Violin (1960, 43 min.). This is Tarkovsky's first longer short film and it was his graduating film from the film school in Moscow. The film tells the story of a friendship between a little boy, Sasha, who plays the violin and the worker Sergei and his (incredibly beautiful) red steamroller. The influence of Albert Lamorisse's The Red Balloon (Le ballon rouge 1956) is very clear. The images of the film are sheer beauty, the mirrors, the reflections; the dreams are already there. Asta could not follow the story, I think because she was just taken by the visual impression. Here's a more detailed description:
http://www.sensesofcinema.com/2009/cteq/the-steamroller-and-the-violin/#2
A DVD is available from Facets Video (region 1) and bits can of course be seen on Youtube, but get it for your children's film program if you have one, it has to be viewed on the big screen.
http://www.youtube.com/watch?v=mRaqcxk1YtM&feature=related
http://www.youtube.com/watch?v=6SNPhp6mT6I
What we particularly appreciate about Beaubourg's program is that the curators are there themselves to present the days film. They make a small introduction and offer to read aloud the subtitles on non-French films, should the children wish so. And they also leave time for comments and questions afterwards. Asta's comment was "the film was very good"!
Paris has many other cinematographic offers for children, I can get back to that another time, and nothing beats the event of taking an actual trip to a movie theatre and sit down in the dark. It is important and a pleasure to be able to let your child grow up with a larger view of cinematography, than what is offered by mainstream cinema today.
I quote Chris Marker, from an interview Tue Steen Müller has linked to in an earlier comment, but can easily be repeated and counts for kids as well: "Godard nailed it once and for all: at the cinema, you raise your eyes to the screen; in front of the television, you lower them. Then there is the role of the shutter. Out of the two hours you spend in a movie theater, you spend one of them in the dark. It's this nocturnal portion that stays with us, that fixes our memory of a film in a different way than the same film seen on television or on a monitor" (Chris Marker, interview Libération March 5. 2003 translated in Film Comment:
http://www.filmlinc.com/fcm/5-6-2003/markerint.htm).
The film made me plunge in to Tarkovsky's own writing, though he hardly mentions The Steamroller and the Violin. I highly recommend his reflections on the art of cinema:
Andrei Tarkovski: Le temps scellé (Petite bibliothèque des Cahiers du Cinéma 2004). English edition: Sculpting in Time (University of Texas Press 1989).