Odense Film Fest Documentary Prizes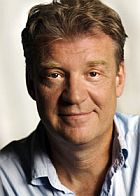 The festival has finished and prizes have been given:
Grand Prix: "Milosevic on trial" by Michael Christoffersen.
Best Danish Documentary: "Kun med hjertet kan man rigtigt se" by Ulla Boye.
Audience Award: "Fra Thailand til Thy" af Janus Metz.
All three films have been reviewed/written about on this site, the first one in English, the two others in Danish.
Photo: Michael Christoffersen, director.