Ole Bendtzen: Football is God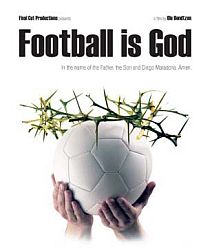 In the name of the Father, the Son and Diego Maradona. Amen… is the subtitle of this new Danish film that for a football addict, who will spend hours watching the coming World Cup, was a gift to watch at the premiere in Copenhagen. On a big screen. The film takes its audience to Buenos Aires, the hometown of the legendary club Boca Juniors. It conveys – through three characters – what addiction in its most extreme version looks like, and it does it well. Hernan, the sportsjournalist, is a character you will not forget. You see him losing control when Boca wins, on the edge of breaking down, you see him at the shrink, who discusses his addiction and you hear him explain his addiction. Clear and understandable. La Tia (means The aunt) is a wonderful old lady who looks upon the players as her sons, byuing underpants for her favourite no. 9 on the team! And Pablo is the one who looks a bit like Maradona, comes from the bottom of the society and goes to the Maradona church where fan couple can be married.
The three characters are presented in an entertaining (although a bit schematically structured way) one hour documentary perfect for television and probably also fine for some festivals around.
So far the following broadcasters will show the film: DR (at the Dokumania slot tuesday evening June 8 9.25pm), SVT Sweden, YLE Finland, VPRO Holland, SBS Australia, Ceska TV. More will follow for sure….
And cross fingers for Argentina and their coach Diego in the coming weeks. Come on Messi, Milito, Higuain!
Denmark, 2010, 52 mins.