Petr Záruba: Traces of a Landscape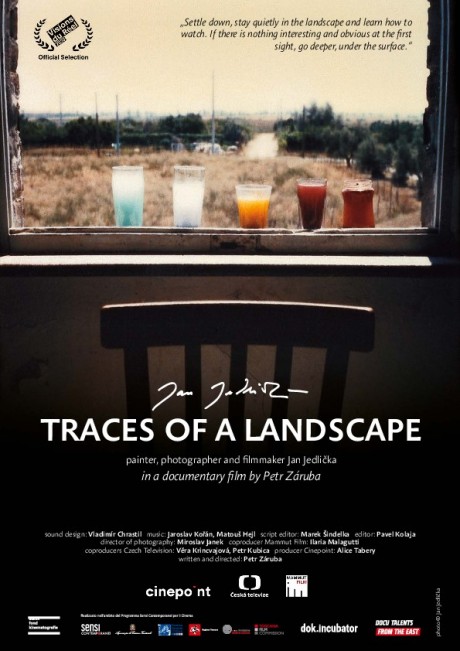 I will try to avoid too many superlatives in this review of a brilliant documentary that is currently being shown at the online Visions du Réel festival in Nyon. So I have chosen to start with a copy-paste of the festival's precise synopsis taken from the Cineuropa magazine:
"The film's subject is Czech painter, photographer and experimental filmmaker Jan Jedlička, whom the Visions du Réel website calls "one of the best-kept secrets in the world of art". Due to the political situation after 1968, he emigrated from Czechoslovakia and settled in Switzerland. For almost ten years, he was looking for new inspiration when, suddenly, during a holiday trip, he fell in love with the flat landscape of the Maremma region in Tuscany. He found his new artistic home there, and as an artist, he began from scratch. The documentary follows Jedlička at work in the present and dives into the past in order to help us understand his artistic career. The film tries to capture how he rediscovered his landscape – this time his inner one."
To meet sympathetic Jedlička is a wonderful experience in a film that follows his daily rythm, takes its (his) time, goes with him in the landscape of Maremma in Tuscany, where he finds the motives and brings back pieces of rocks and stones from where he, with his mortar stone grinding and with water, brings forward colours that he uses for his interpretation of the wetland that is Maremma. "I need to have the reality next to me… the presence of reality keep us awake", he says. He also reflects on loneliness and silence as he could experience in a house in Maremma – "that is not freedom". He stands on the beach next to the anthropomorphic – as he calls them – wooden sculptures formed by the waves of the sea. He is in his atelier and his home in Zürich and Prague, he makes mezzotints, he is a fabulous photographer, playing with lights and darkness, he is with famous Steidl that publishes a photo book with his works, he praises b/w polaroid.
The film camera (maestro Czech cameraman Miroslav Janek) observes and interprets, I would say paints synchronically with the great artist Jan Jedlička is. It's all about curiosity, he says, keeping the tension and interest (good advice to documentarians from a modest man) who – shows the film with archive material, a lot shot by him – has an eye for nuances and a very gentle way of looking at the world.
Making portraits of artists is about finding a tone that fits and characterises the artist without staying on the surface and limit yourself to biography. Petr Záruba cleverly leaves the story about Jedlička leaving Prague in 1969 in the background to let the audience be with him in the creative process. It was a lovely journey to be taken on. Thanks.
Czech Republic, 2020, 66 mins.