Ramallah – Documentaries from Palestine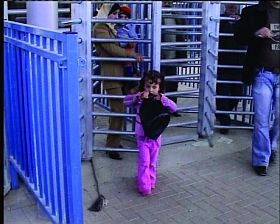 This text was written by Tue Steen Müller in 2010 after a stay in Ramallah meeting Palestinian filmmakers including those in Gaza, with whom we tutors from Western Europe met to select makers to come to Corfu in Greece to develop their projects further.
Palestine, 4 days, end of March 2010. It's blue sky but still a bit chilly in Ramallah, where I have been for a couple of days. Lively activity outside in the streets of a nice and calm city, 40.000 are here during night, 80.000 during day. The capital of the Palestinian Authority expresses a friendly atmosphere, and energy – waiting for a Palestinian state to be established. Yellow buses, yellow taxis, building work going on everywhere, white buildings, a hilly city with beautiful viewing spots. A city whose economy is very much depending on investments done by rich Palestinians, who have made their money in the Gulf states and return home one month per year.
I am here with some fellow tutors for a workshop including 10 documentary projects. The intentions behind the initiative are triple: 1) The filmmakers are trained for a pitching of their projects to 12-15 tv editors – that takes place late May. 2) The filmmakers are competing for a participation in the Storydoc documentary programme that has its first session in Corfu, Greece in the beginning of July. 4 of the 10 projects will be picked for that purpose. 3) The filmmakers have their projects discussed and their pitching skills improved – the writing, the verbal and the visual. They are being provided with a huge amount of information and
inspiration, hopefully, by Anne Julienne, Télévision Francaise, Kostas Spiropoulos, Skai television Greece and head of the Storydoc initiative, Jordi Ambros, TV3 Catalunya, Cecilia Lidin, EDN and me.
The learning process goes in both directions. The communication with the Palestinian filmmakers is like one long eye opening process. Their personal stories about not being able to go where they want to go, their isolation, their split-up family relations, the life in a village that is being demolished to give space for one more Israeli settlement, I could go on and on, with words that are not sufficient to describe the constant humiliation of human beings in a occupied territory. There is only one word for this: apartheid.
3 of the projects in the workshop are being dealt with through a video conference system. The Palestinian filmmakers in question are based in Gaza and can not travel to Ramallah. Weird it is to sit and watch them move around, smoke cigarettes, drink tea, small talk and listen to their colleagues discuss and present their proposals in Ramallah in the al qattan centre. It is like a film in itself, an observational documentary, they know that the camera points at them, that we in Ramallah can see them, but they forget, like we forget that they watch us!
It takes a special attitude to live in the occupied territory. Politics is on the agenda every day if you want to move from one place to the other. You have to know if and when the Israeli checkpoints are open, you have to find out whether you are allowed to/can get a permission to go from one place to the other. We asked the local organisers, film director George Khleifi and audiovisual attachée from the French Consulate in Jerusalem, Lucie Meynial, if they thought that we can get the chosen two film project holders from Gaza to Greece, they can only say – it depends on the political situation at that very moment. Planning is not easy!
How do you cope with all that… with a bitter smile, with sarchasm, with melancholy… if you have chosen to stay in Palestine. Our days in Ramallah were full of jokes that referred to the political situation.
The current political situation as it is present in people's daily life is present in two of the film projects that will be promoted through the Storydoc. Nagham Muhanna , a young energetic woman, is looking for answers to why "Romance in Gaza" (working title) has gone with the wind. She wants to describe the theme through three generations – from the hypothesis that the daily hard social situation does not leave space for love! Her colleague in Gaza from the media production company Target Group, Mohammed Abu Sido will join the Storydoc with "Waiting for You" that will try to gather a divided family in a film, as they can not meet in real life: Mohammed is in Gaza, his internet girlfiend is in Ramallah, they can not meet, one of his brothers is in Ramallah as well, and the other in Dubia from where he could go home but does not want to as he is in opposition to the ruling Hamas party. His mother is in Gaza and can not assist to the coming wedding of her daughter, who is also on the West Bank!
Two Ramallah based projects of very different nature will go to the workshop in Vcorfu, Greece. "Off Frame", to be directed by Mohanad Yakubi, is the story about the PFU (Palestinian Film Unit) that in the sixties and seventies was not only a strong instrument in the building of a Palestinian identity but according to the filmmaker also aestetically innovative. The filmmaker want to include archive from the revolutionary times, clips from the films, interviews with icons who helped the PLO, like Jean-Luc Godard. A very promising film project. As is the one by Ghada Tirawi, who wants to make "Palestinian Folk Tales" into an investigation of the Palestinian society. She showed the workshop participants a previous film where she demonstrates a talent for mixing animation and a person telling a story, with real life footage of a methaphoric character.
On the way to Ramallah from the airport in Tel Aviv, during night time, we passed the Kalandia checkpoint about which a very good film, "Kalandia – a Checkpoint Story" (PHOTO) has been made (reviewed here, search "Kalandia"). The taxi driver, a born entertainer, told us that we would go quick through the holy checkpoint in his holy car in the holy land where they have built holy walls to separate the holy people, Arabs and Jews. In this Easter time, can one hope for a holy agreement to re-start holy negociations for peace and a two state agreement?