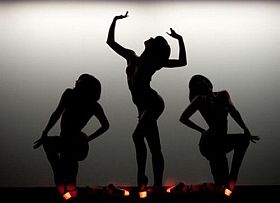 RIDM… stands for Rencontres Internationales du Documentaire de Montreal… its 14th edition takes off November 9 and runs until November 20. A small festival compared to the ones in Europe right now (Leipzig, idfa, cph:dox) and to HotDocs in Toronto, "only" around 100 films, sectioned into a competition (long, short, Canadian), a Panorama, "green" films, and special presentations, as they call films that have been around to loads of festivals like "El Sicario" by Gianfranco Rosi, Helmrich's masterpiece "Position among the Stars", the Portuguese wonderful "José and Pilar" by Goncalves Mendes (José with the surname Saramago, the writer) and films by acknowledged names like Ruth Beckermann and Thomas Heise.
The overall impression is that of a festival with a classical repertory with a high quality artistic documentary programme with retrospectives of Frederick Wiseman (whose new "Crazy Horse" (photo) opens the festival), Helena Trestikova and Jørgen Leth. And with a tribute to Richard Leacock – an interview made by Peter Wintonick in 1999.
In competiton you find films like Polish Michal Marczak's "At the Edge of Russia", "Special Flight" by Fernand Melgar, the DOK Leipzig winner from Mexico, "The Tiniest Place" by Tatiana Huezo and "Ramin" by Lithuanian Audrius Stonys.
Another professional festival for the audience in Canada, a country with a strong tradition for producing and showing this film genre to its citizens… National Film Board of Canada was founded in 1939!