Sheffield Doc/Fest Opens With Maradona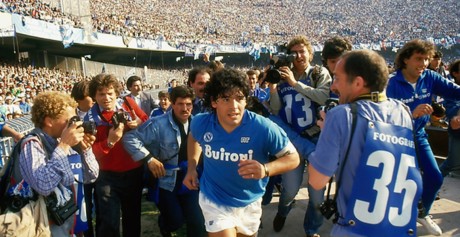 … the new film by Asif Kapadia ("Amy" and "Senna"), one of the masters in archive based documentaries, "The movie melds personal recordings with omnipresent reportage to portray the turbulent years of a gifted footballer burning brightly in late 1980's Napoli", the festival website says. Gosh, I am looking forward to that film about legendary "Diego Maradona", the title of the film that was shown in Cannes.
The festival in Sheffield runs from June 6 – 11 with films from 47 countries and with 57% of the competition titles directed or co-directed by female filmmakers.
Competition titles, the festival has several categories, where films are nominated. There is a Grand Jury Award, where the film on Maradona is listed, as well as the highlighted "For Sama" by Edward Watts. There is an Art Award, where I find the film by Susana de Sousa Dias "Fordlandia Malaise" – the website has a fine list of trailers, look at the one by Susana. There is the Tim Hetherington Award, where I find the excellent "Dark Suns" from Mexico, by Julien Elie. There is the International Award, where "Earth" by Geyerhalter is as well Belgian Kristof Bilsen's "Mother", executive produced by Kirsten Johnson… and a couple of more award sections.
"Ways of Seeing", good selection as I see it from festival director Luke Moody and his team.
https://sheffdocfest.com/