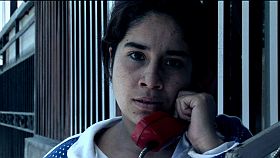 They have the same name. One lives in Santiago, the other in Valparaiso at the coast. One has a hard life as a parking guide in the big city, with a drug addicted husband and two small children totally dependent on her. The other gets a baby but can not live together with her boyfriend as they are too young a couple. Still in school.
The face of "the older" Solange is marked by her previous drug abuse and the constant struggle for the future of the children and the relation to the man she loves and can not trust at all. The face of "the younger" Solange is full of innocence and passion for the father of her child.
Emotionally strong music, excellent thematic montage between the two women, many times without a word being said, let the images talk is the principle, a warm and classical humanistic approach from the director, constantly looking for moments of happiness, but not hiding that here we are far away from the rich man's world. This is life for two women in Chile. Well done. Thank you.
Opening film at Odense Film Festival 2008.
Denmark, 2008, 50 mins., Director: Tine Katinka Jensen