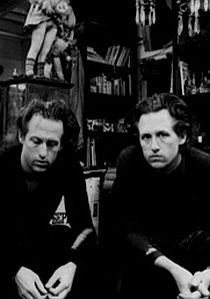 The reason for this long presentation is the fact that the Danish Film House, in its Cinematheque in Copenhagen, shows an excellent retrospective of two of the greatest film artists of our time. New Danish viewers should go and discover the twin brothers surrealistic world, and others can acquire dvd's of their work through Zeitgeistfilms. The following text is taken from the company's site:
The extraordinary Quay Brothers are two of the world's most original filmmakers. Identical twins who were born in Pennsylvania in 1947, Stephen and Timothy Quay studied illustration in Philadelphia before going on to the Royal College of Art in London, where they started to make animated shorts in the 1970s. They have lived in London ever since, making their unique and innovative films under the aegis of Koninck Studios.
Influenced by a tradition of Eastern European animation, the Quays display a passion for detail, a breathtaking command of color and texture, and an uncanny use of focus and camera movement that make their films unique and instantly recognizable. Best known for their classic 1986 film STREET OF CROCODILES, which filmmaker Terry Gilliam recently selected as one of the ten best animated films of all time, they are masters of miniaturization and on their tiny sets have created an unforgettable world, suggestive of a landscape of long-repressed childhood dreams. In 1994, with INSTITUTE BENJAMENTA, they made their first foray into live-action feature-length
filmmaking.
The Quays have also directed pop promos for His Name is Alive, Michael Penn, Sparklehorse, 16 Horsepower, and Peter Gabriel (contributing to his celebrated "Sledgehammer" video), and have also directed ground-breaking commercials for, among others, MTV, Nikon, Murphy's beer and Slurpee.
The Quays' work also includes set design for theatre and opera. In 1998 their Tony-nominated set designs for Ionesco's The Chairs won great acclaim on Broadway.
In 2000 they made IN ABSENTIA, an award-winning collaboration with Karlheinz Stockhausen, as well as two dance films, DUET and THE SANDMAN. In 2002 they contributed an animated dream sequence to Julie Taymor's film FRIDA.
In 2003 the Quays made four short films in collaboration with composer Steve Martland for a live event at the Tate Modern in London (read about the collaboration in The Guardian) and in 2005 premiered their second feature film, THE PIANO TUNER OF EARTHQUAKES, at the Locarno Film Festival.
www.cinemateket.dk
http://www.zeitgeistfilms.com/film.php?directoryname=quayretrospective&mode=filmmaker