Thomas Riedelsheimer: Leaning into the Wind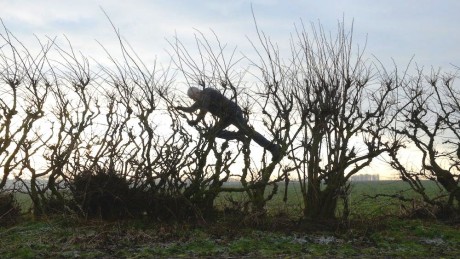 Two great artists – a sculptor who shapes nature and creates surreal scenes of reality, Andy Goldsworthy, and filmmaker Thomas Riedelsheimer, meet again sixteen years later. Again, as in the big film "Rivers and tides – Andy Goldsworthy Working with Time" they poetisize nature and create a fascinating work on the true sense of art.
From the urban landscapes of Edinburgh and London to the south of France and New England, we are exposed to street and nature sights that the sculptor Goldsworthy converts into incomparable works of land art, and the camera captures them as outstanding, highly aestheticised film images. The "Leaning into the Wind" conveys thoughts and ideas about art, artistic creation and process, and even more, tells a story of the relationship between man and nature. And this is where the true primeval saga of the great love of a passionate fighter for nature begins – environmental activist Goldsworthy touches every stone, every grass, petal, branch, every drop of water as a precious being and within it recognizes the internal pulsation that permeates the planet. And these touches, followed by the explosion of colors and unexpected shapes, create a nature in which man and space become one.
Riedelsheimer's sophisticated filmmaking proceeds from breathtaking physical matter and goes beyond trying to reveal the ideas that move the artists. And before our very eyes these ideas are transformed into remarkable forms pervaded by the rhythms of nature.
UK, Germany, 2018, 93 mins.
http://www.leaningintothewind.com/