Ulrike Ottinger: Paris Calligrammes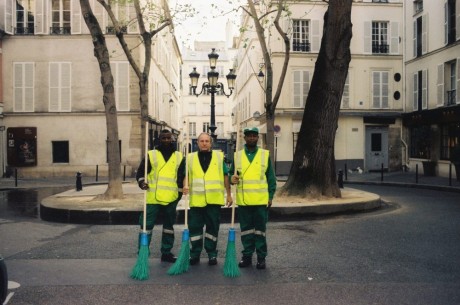 Loved that match. Watching the film, more than two hours from Paris. Images of today, images from the city in the sixties, accompanied by Ottinger's voice unfolding her personal memoirs. AND then one hour talk – with a couple of clips – with the director (born 1942) and film critic Pamela Cohn analysing and asking questions. "It's the most difficult film, I've ever done", Ottinger said, "here I had to be direct personal, contrary to my many other films". For the film Ottinger made a huge research in archives, public and private, she mentioned, she had seen 400 films (!) and spent two years in the editing room with Anette Fleming – "my wonderful editor".
Ulrike Ottinger had a great time (1962-69) in Paris, were she met painters,
sculptors, writers, intellectuals – and made her lovely pop art, comic strips as she calls them, and many other artistic expressions. It was the time of the Algier war, there were demonstrations, there were discussions in the cafés, it made a big impression on the young artist – and it is very much present in the film. At a point, she says in the talk with Pamela Cohn, I had a 3 hours cut only with the Algier war as the topic.
The film starts and ends on Place de Furstenberg (rue de Furstemberg). There is a sound I remember from Paris, Ottinger says, and she invites us to see and hear three street sweepers with their brooms cleaning the square with the water coming from underground. Yes, that is Paris! As is her taking the viewer around in Saint-Germain-des-Prés, her first location, and where she met the – first of all – the dadaist artists at the bookshop "Calligrammes" of Fritz Picard, who built up an antiquariat in Rue du Dragon. The guest book of Picard is full of greetings and drawings (Arp,Tristan Tzara, Braque came there) – and she comes back to that through the film. In Calligrammes (Apollinaire) there were readings; photos and archive clips demonstrate the creative environment. She was also a regular visitor to the gallery of Friedländer, she stayed for some time at his place and she learned to do etchings from him. It's all wonderfully documented in the film.
The Calligrammes bookshop is no longer there but Ottinger got the permission of the new owner to decorate the window as she wanted with books and a head statue of Picard.
And there is life in the cafés. Au Deux Magots, Brasserie Lipp… reading of newspapers, smoking, writing, discussing… Simone de Beauvoir, Sartre, Camus, Eddie Constantine and so on, we know it, we know them and to see them again… as well as the cafés on Montparnasse, Café Select, Café le Dome – of course this brings my memoirs back from numerous trips to Paris.
As does the clip from (the best film ever, my comment) "les Enfants du paradis », one of the scenes with Arletty, and archive with Henri Langlois and Malraux/Pompidou, when la Cinématheque opened in 1963. And Jean Rouch, of course.
Ottinger's interest in the colonial past of France covers a good deal of the film. There is a strong and touching clip from Jacques Panijel's "Octobre à Paris » from 1961, and there are material from the turmoil around a play of Jean Genet. I have borrowed this from the internet: … Four years after the end of the Algerian war, Les Paravents was perceived by nationalist movements as an infringement of the virile figure of colonial France. Thus, following the first representations at the Odeon, brutal demonstrations were led by the extreme right and by former fighters in the Algerian war or Indochina war, in front of the Odeon but also inside. Protesters even went to throw dead rats and tear gas on stage to ask for the end of representations…
Ottinger shows us and talks about these riots, which led to Jean-Louis Barrault and Madeleine Renaud – if I get it right – leaving Odéon. But she also visits an African hairdresser saloon in the Northern part of rue Saint Denis, the lively quarter close to the flat, where I have been staying with friends several times in the last decade. A long fascinating clip by a fascinated director. Of today.
Ottinger as an observer of today, also at the Musée Gustave Moreau that she visited and was often the only one, she says. Moreau became an inspiration for one of her films. And the colonial museums in and outside Paris – and Ottinger as the reflector. There is a brilliant clip chosen by Pamela Cohn, with images from Hotel Drouot, the enormous auction house, where gems from the colonial times are being sold and bought, often by descendants from Vietnam or other countries, where the French have been.
I have to stop, will watch the film again maybe on a big screen in Copenhagen? It's a big work Ulrike Ottinger has made, premiered at the Berlinale and waiting for its theatrical release. It is full of love to a city, of indignation to politics – it is personal, it is long but easy to follow, it is playful and makes you want to go back to a non-pandemic Paris!
Germany/France, 2020, 130 mins.