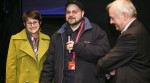 12 projects from the region. I can not mention them all but again I must say that the validity of the argument, so often expressed on this place, that originality and creativeness in documentaries come from the Eastern part of Europe, this argument stays intact after ZagrebDOX 2009. As said by one of the participating editors, Wim van Rompaey from Lichtpunt in Belgium, they are good storytellers. I would add – and how wonderful it is to be surprised and entertained and witness passion and commitment.
Let me mention 3 projects that I am sure you will meet as films within the next year: "I'll Marry the whole Village" by Serbian Zeljko Mirkovic, who I met 8 years ago and who has developed enormously in his film skills. This story is a music based documentary on a man who wishes the best for the bachelors in his village and wants to become a matchmaker, as the filmmaker already is having publicised his film intention! "Ritz" by Croatian Miroslav Sikavica, a story about civil action against the meaningless violence that made Luka Ritz a victim last year in Zagreb. And "Lost Tapes of Adrian Tudor" by producer Catalin Leescu and Andra Chiriac from Romania, about a man who posted a video clip on YouTube bragging his much better life in Spain and showing his new Audi – with the result that more than a hundred fellow Romanians commented on him by making their clips for the YouTube.
The team behind the "Lost Tapes of Adrian Tudor" received the prize (see photo, where they are accompanied by Wim van Rompaey) for the best pitch.