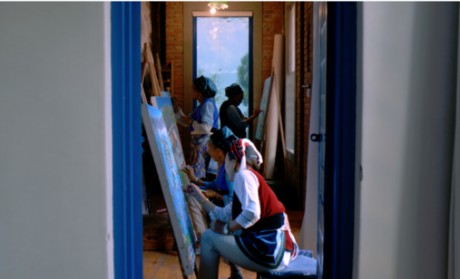 Last night the winners were announced in Zagreb, here comes some of them, click below and you will get the whole list:
Nebojša Slijepčević Tue Steen Müller elimir ilnik, Jury International Competition
BIG STAMP FOR BEST FILM IN INTERNATIONAL COMPETITION
UP THE MOUNTAIN (Photo)
Yang Zhang, China – The film captivates with its visual beauty and directing skills, introduces us into the life of a remote community, depicting celebrations, grief, birth and death, spectacular parties and intimate conversations. We can rightfully say that each shot in this film is like a painting, a glorious meditation about true values in life.
SPECIAL MENTION – INTERNATIONAL COMPETITION
MINDING THE GAP
Bing Liu, USA- A painfully honest film in which the director fully discloses himself and his friends, a universal tale of the scars left by domestic violence.
SPECIAL MENTION – INTERNATIONAL COMPETITION
MY UNKNOWN SOLDIER Anna Kryvenko Czech Republic, Latvia, Slovakia – The author bravely reveals hidden family history before the camera and manages to find an original approach to historical events about which we seemed to already know everything.
Nedad Begović, Melanie Iredale, Igor Mirković, Regional Jury
BIG STAMP FOR BEST FILM
UNA PRIMAVERA
Valentina Primavera Austria, Italy, Germany – Our winning film is a very personal insight in to domestic abuse, and a great example of a filmmaker turning their camera on their own dysfunctional family to produce a work so intimate and warm whilst making a bigger statement about the systemic issue of patriarchal violence and coercion. The documentary's central character is a 60-year-old woman who after 40 years of marriage, is not afraid to boldly start her life all over again, and her daughter's filmmaking is just as bold. The award goes to Una Primavera – an Austrian, German & Italian co-production from Valentina Primavera.
SPECIAL MENTION – REGIONAL COMPETITION
IN THE NAME OF THE REPUBLIC OF CROATIA Goran Dević Croatia – Special mention goes to the film which tells the centuries old and everlasting story of an individual fighting for his political ideas and the establishment which tries to silence him, without asking too many questions. The film itself opens these important questions again, without imposing the answers, led by the hand of a talented and skilful filmmaker Goran Dević in his film In the Name of Republic of Croatia.
SPECIAL MENTION – REGIONAL COMPETITION
4 YEARS IN 10 MINUTES Mladen Kovačević Serbia – Special mention goes to the film 4 Years in 10 Minutes. With willpower and perseverance, the author climbed Mount Everest and made a dramatic and exciting film whose drama doesn't stop once the goal is met. Motivation and understanding of this film will definitely arise in those living at sea level, too. And those in between.
YOUNG JURY
Christian Sønderby Jepsen, Zorko Sirotić, Marko Grba Singh, Young Jury
LITTLE STAMP FOR BEST FILM OF A YOUNG AUTHOR UP TO 35 YEARS OF AGE
STILL RECORDING Saeed Al Batal, Ghiath Ayoub Lebanon, Syria, France, Qatar, Germany – The main award the Little Stamp goes to an honest inside story from hell. With camera as a weapon, film's protagonists overcome fear and send out the truth while maintaining friendship and unity in the midst of the ruins of Syria.
SPECIAL MENTION – YOUNG JURY
EASY LESSONS Dorottya Zurbó Hungary – Special mention goes to a simple and cinematic, well developed portrait of an impressive Somalian girl trying to fit in a new society, despite the echoes of her past.
SPECIAL MENTION – YOUNG JURY
TAURUNUM BOY Jelena Maksimović, Dušan Grubin Serbia – Special mention goes to a well composed coming of age journey, cleverly shifting from one character to another in a successful and descreet observation of marginalized kids in the suburbs of Belgrade.