Karl Forchhammer: Last Days of Summer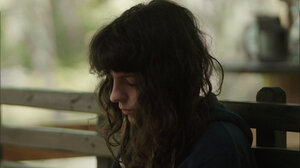 «Tamara is a feminist but also a hopeless romantic in love with a Catholic man with whom she shares few beliefs. Sierzput has just won his girlfriend back but is struggling to hold on to her. And out of sheer boredom, Ponek has broken her own rule and has started sleeping with her friends. A love letter to people in their late twenties, where many are waiting for adulthood only to realise it has already arrived.» The words are taken from the catalogue of Nordisk Panorama 2020, about this film that is in the competition section "New Nordic Voice".
I was puzzled: Why a Polish film in the Nordisk Panorama? I had to go to the Q&A to get the answer. Here Martijn te Pajs, festival programmer and an excellent conversation partner for the young DANISH director, helped me. Karl Forchhammer explained that he had studied in Prague and at the National Film School in England and had filmed «Last Days of Summer» in Warsaw.
I like the Central European culture, Karl Forchhammer said but considers this to be a very Polish film as well. I agree, knowing films by Piotr Stasik and other Polish coming out from the Wajda film school. It has nerve, rythm, it catches moments of intensity and I believe that the world can look like that in a bohemian environment, where cigarettes are smoked constantly, as well as joints, with a lot of bottles in hand and on the tables, with a sex scene, and a lot of sex being discussed, and what is love – «the last days of summer» – what comes after, as the director said in the Q&A. "It was of course a privilege for me – having the same age as the three protagonists – to be able to sit there with them for a week or two without shooting."
Watch the film, it would not surprise me if there is an award for it. Anyway the director shows big cinematic talent and sensibility, support him!
https://nordiskpanorama.com/en/festival/